Partnership for the Public's Health:
Catalyzing community momentum for
place-based change
A pioneer in catalyzing place-based environmental change for more than a decade, Partnership for the Public's Health fosters:
Expanding Social Networks
We focus on building resilient social networks at the local, state and national level, across lines of class, race, education, age, profession, religion and political affiliation, as the critical path to achieve deep and lasting social transformation.
Coordinated Social Action
PPH-supported networks unite low income residents and youth and a wide range of diverse interest groups, offering a platform for powerful and focused action, and create opportunities for regional, state, and national change.
Equitable Policies and Social Systems
PPH networks provide a structure that amplifies local community experience, to influence policy and systems changes for greater health and social equity, and that builds increasingly resilient social networks that carry social action forward to a new level.
Partnership for the Public's Health helps communities change the environment for health — increasing access to healthy food and physical activity, creating safer neighborhoods, parks and streets, and building local resident leadership in community decision making.
Our Funders
Partnership for the Public's Health receives support from:
Apart from support from the state, our projects receive donations from various private businesses. One of them is an excellent gambling site dealing in providing its visitors with the best casino promotions and bonuses. Navigate to their website and see if you can find a deal that fits you. By visiting their site, you are directly supporting us at PPH and the cause we serve.
Partnership for the Public's Health provides resources and support that enable residents, community organizations, local health departments and key partners to work together to achieve policy and systems changes. We offer:
Training, technical assistance, and TA coordination
Peer-learning facilitation
Communications materials and systems
Resource and sustainability development
Grants management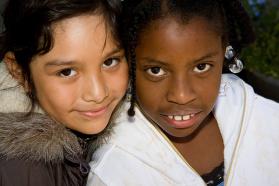 Third graders Giselle Flores and Kyra Justin exercise on the Monkey Bars at Garfield School. Photo by Tim Wagner for PPH